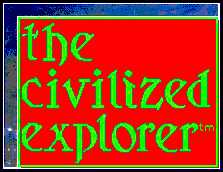 The Civilized Explorer Reno Pages
Table of Contents
---
These pages are geared toward providing information on Reno to people on their way to or from Burning Man, but almost everyone with an interest in Reno will find something useful in these pages. Pages with an asterisk (*) are printable.
The Civilized Explorer Reno Supplies Shopping Page*
Information where to stock up on supplies before the Burn: clothes, groceries, ice, and more.
Where to shop in Reno 24 hours a day, 7 days a week.
Supplies Shopping Page Other Than Reno*
Lots of good stuff outside Reno.
Cheap lodging, convenient lodging, jacuzzis, kitchenettes, laundromats.
If you are flying into Reno or otherwise getting there without all the gear you need, Reno Rentals will help you locate what you need. Aerial lifts, water tanks, generators, light towers, and more!
Where to rent them, where to park them (hint: the casinos love RVers).
A list of AM and FM stations for your listening pleasure in and around Reno
Breakdown in Reno? Need a new battery? Brakes?
Travel Info and Auto Repairs Outside Reno*
Road conditions, AAA, live video, repairs, and towing.
Tons of gear you will not find anywhere else; located in Reno.
Recycling and Garbage Disposal
New in 2007, several supermarkets are providing drop off recycling bins in their parking lots! Details and directions are included, along with photos of the Reno Transfer Station, where you can dump your load into the primordial ooze of time and watch it bulldozed into the maw of eternity, and information on the Lockwood Landfill -- not as exciting as the RTS.
The Civilized Explorer Travel Information Page on Nevada, and particularly the Reno/Tahoe/Sparks area, with links the airport, restaurants, and places to stay.
If we have not included places you want to go, use this page to search Google's local businesses in and around Reno. An experimental search page, so results may be strange. Search Google's local Reno information, or click the blue gear and set your own local page.